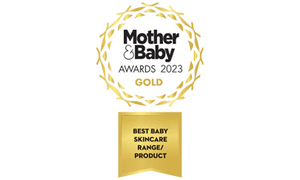 gold for our original range!
Now in their 30th year, Mother&Baby are still the one parenting award everyone wants to win. A Mother&Baby Award means that our product is TRIED, TESTED and TRUSTED by real mums and parents. 
The reason parents believe in the awards is because they put all products through their paces with the help of more than 6,000 parents and their babies.
It's because of this we are truly delighted to have won GOLD for the best baby skincare range/product!
gold for our Adventure Bundle!
Made for Mums find and reward the very best parenting products in the UK.
As the UK's biggest parenting reviews site, they have over 3 million monthly users who trust and rely on completely honest, expert, top-ranking reviews and 'best of' product picks.
We're delighted that we won GOLD for our body wash and shampoo!
gold for best baby bath-time must haves!
Project baby, the popular Pregnancy, Baby and Toddler Magazine. Covering all the latest expert advice as well as every aspect of becoming a mum. Guiding through each stage of pregnancy and helping to get to grips with motherhood.
We're delighted our original range won gold!